Environmental microbiological monitoring is performed by carrying out checks on air and work surfaces. Bioaerosol is a component of the particulate matter (PM) present in the atmosphere consisting of suspended particles of biological origin that incorporate microorganisms (viruses, bacteria, fungi and their spores, algae, protozoa) and derived substances (e.g. toxins and allergens) produced by any living species.
Dissemination in the form of aerosols (from coughing and sneezing, spraying or by simple transport from atmospheric agents) constitutes one of the most frequent methods of environmental contamination and the consequent infection of animals and plants.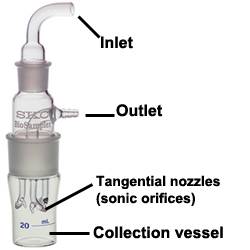 There is no single method for sampling aerosols from the environment, it is important to evaluate the different collection techniques and identify the one that best suits your needs. The analysis of the scientific literature shows that sampling through the SKC BioSampler is the most effective in the collection of viruses and bacteria and offers countless advantages especially if you want to carry out molecular analyzes.
Generon, in collaboration with SKC Italia, offers the BioSampler tool to monitor the presence of infectious agents (for example the presence of Coronavirus) in the form of bioaerosol in the environments.
This sampling device allows the recovery of viruses and bacteria dispersed in the air through the use of the swirling collection system on liquid (impinging). The positive aspect of impinging is that the collection liquid can be chosen according to needs and prevents drying by facilitating the extraction of microorganisms for subsequent analysis. If the collection liquid allows it, this device preserves the integrity and vitality of the microorganisms. The collection container is reusable in the field after an appropriate sanitizing wash and is autoclavable.
---
For any further information visit our product catalog (ACC6003) or fill out the contact form.
---