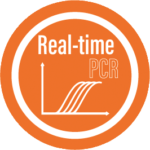 Real-Time PCR
PCR is the first method used for copying in vitro specific segments of the DNA molecule. The PCR assay chemical reagents include a pair of target specific primers, a suitable reaction buffer, DNA polymerase, nucleotides and the addition of a starting target template in a small test tube. The process involves repeated cycles of heating and cooling steps at defined temperatures for certain time intervals. Throughout this repeated temperature driven process the free-flowing primers align and bind to the DNA template, and with the help of the DNA polymerase free nucleotides are incorporated into a growing nucleotide chain to come up with an identical copy of the DNA molecule complementary to the original template (amplicon). The whole PCR process usually involves 35–45 amplification cycles within a completion timeframe of approximately two hours or less. The PCR process is carried out by an automatic heating and cooling device called a thermal cycler, otherwise commonly known as a 'PCR machine'.
A more advanced version of PCR called real-time PCR was introduced by addition of a fluorescent linked probe. The additional probe confers further specificity to the amplification process but also generates a detectable signal, which can be captured by a fluorescence detecting unit. As the amount of fluorescence emitted is proportional to the amplicon, the fluorescent-based PCR process provides a way to quantify the amount of DNA being amplified. The fluorescent signal can be captured during and after each amplification cycle so that analysts can observe the DNA amplification on a real-time basis, hence the name given to this process.
Real-Time PCR paved the way to new possibilities in food and feed quality control in terms of range and speed of analysis, overall analytical costs and reliability of results.