Our partner Perkin-Elmer developed two kits for Staphylococcal enterotoxins (SEs) detection based on ELISA technology, featuring a high sensitivity and specificity, ease-of-use and state-of-art reaction time.
The Total Staphylococcus aureus Enterotoxin ELISA Test Kit (Part# MZLR50501) can qualitatively detect the combined content of Staphylococcus aureus enterotoxin (A-E) in food down to 0.25 ppb. Positive samples can be further investigated using the Staphylococcal Enterotoxins Typing Kit (Part# MZLR50511) which allows the identification of Staphylococcus enterotoxins A, B, C, D and E in bacterial cultures.
These two new references extend our catalogue of solutions for the detection of foodborne microbiological contaminants.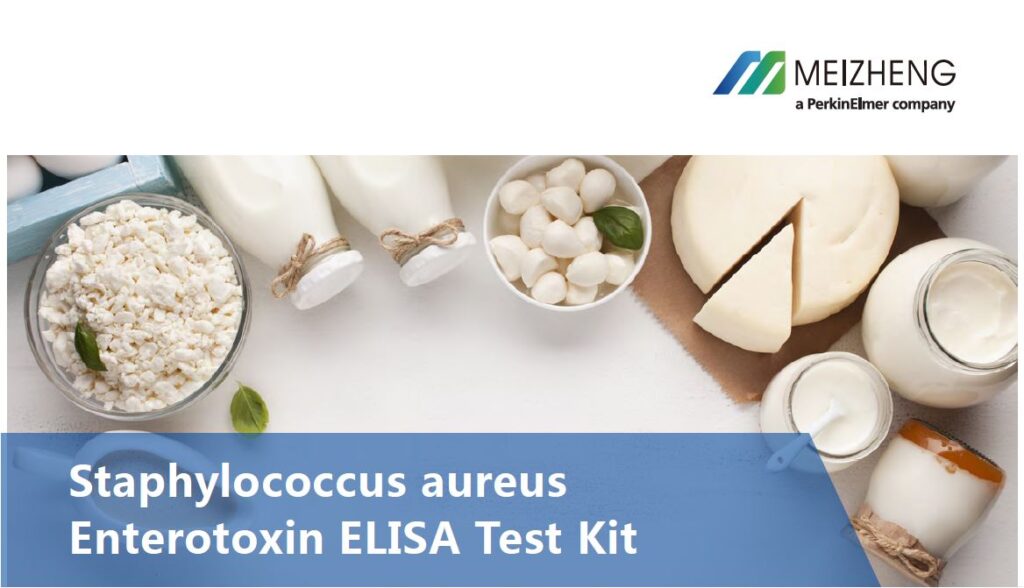 SEs are proteins that can be produced in foods, by certain strains of the coagulase positive staphylococci (CPS), mainly Staphylococcus aureus. Typically, and depending on the sensitivity of affected individuals, nanogram (ng) amounts of SEs can cause intoxication with nausea, vomiting, abdominal pain and diarrhoea when ingested. These proteins are relatively stable under changing environmental conditions, such as heat treatment, freezing and change in pH; moreover, they are resistant to proteolytic digestion. Hence, SEs might still be present even when coagulase positive staphylococci cannot be detected.
SEs, the emetic toxins produced by Staphylococcus aureus, have been divided into five serological types (SEA, SEB, SEC, SED and SEE). In recent years, new types of SEs have been reported but the emetic activity of several of these toxins has not been confirmed. Due to the influence of SEs on human health, the European Union has adopted legislation to increase consumer protection by defining microbiological criteria for foodstuffs, such as CPS enumeration and detection of SEs. Several methods have been developed for the detection and/or quantification of SEs; ELISA methods have been chosen as the starting point for standardization and an ISO norm (ISO19020) describing a standardized protocol for the extraction of SEs from food samples was issued in 2017. This first Standard method was included (amendment EC Regulation 2019/229) in the EC Regulation 2073/2005 on microbiological criteria for food, as reference method for the detection of Staphylococcal products in dairy products.
---
---
Subscribe to our thematic newsletters to receive insights, news and curiosities of our sector.
For more information fill out the contact form!