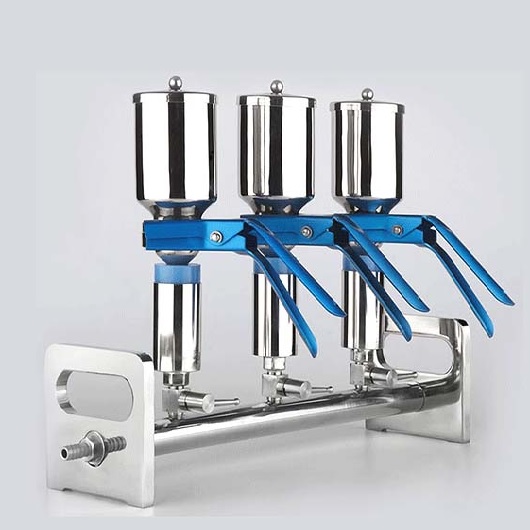 3-branches vacuum manifold for liquids filtration
Format: 1 Unit
Code: RampaX3-1
Technology: Ancillary Equipment
Application: Accessories
Tag/Filter:
---
The 3-seat SpeedFlow modular basic ramp (1, 4 and 6-seat ramps are also available) can be completely disassembled for cleaning and checking the various parts. It can be assembled with either uniform or different types of columns, even in mixed form. This can be done at the time of purchase or even afterwards, simply by replacing the columns of one type with others of a different type. The construction is in brushed stainless steel, with lateral sides in the shape of an aluminum handle on which a rubber holder with 3 diameters for vacuum tubes of diameter 8, 12 and 16 mm is mounted on one side and a closing cap on the other side. Hose connector and cap are interchangeable to favor proximity to the vacuum source.
---
We are working to publish new documents here, if you need more information
click here
.
Download
General Catalog
---
To view blocked content please login
here
GET A QUOTE FOR THE PRODUCT:
3-branches vacuum manifold for liquids filtration
Format: 1 Unit
Code: RampaX3-1
Technology: Ancillary Equipment
Application: Accessories
Tag/Filter:
---