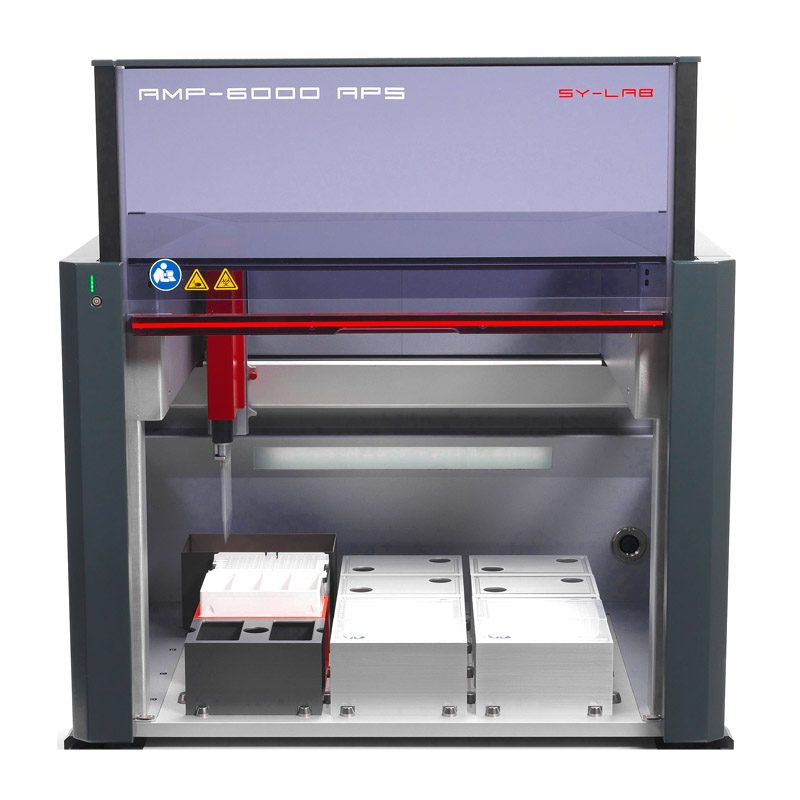 AMP-6000 System – APS Robotic Workstation – Automatic microplate preparation system for MPN microbes enumeration
Format: 1 Unit
Code: 60-600400+
Technology: Mini-MPN (AMP system)
Application: Food/Water microbiology
Tag/Filter:
---
More than 80% of routine tests in microbiological laboratories concern the counting of hygiene indicators. These include the determination of aerobic mesophilic bacterial count and the quantification of Enterobacteriaceae and E. coli. The conventional or standard methods used so far are complex to implement, take a long time to evaluate and document, and require sufficient skills in assessment. With the innovative AMP-6000 system, these tasks can be automated and thus the productivity of the laboratory can be significantly increased. The AMP-6000 Scan reader and dedicated analysis software are at the heart of the AMP-6000 platform. The AMP-6000 APS robot automates the preparation of titration plates by dispensing the culture media and inoculating them by diluting the samples according to the chosen MPN scheme. You can process up to 4 samples on 2 parameters each. All the protocols for the various applications are stored in the management software and thanks to the reading of barcodes samples and plates are uniquely correlated down to the reading and emission of the result.
---
We are working to publish new documents here, if you need more information
click here
.
Download
---
To view blocked content please login
here
GET A QUOTE FOR THE PRODUCT:
AMP-6000 System – APS Robotic Workstation – Automatic microplate preparation system for MPN microbes enumeration
Format: 1 Unit
Code: 60-600400+
Technology: Mini-MPN (AMP system)
Application: Food/Water microbiology
Tag/Filter:
---