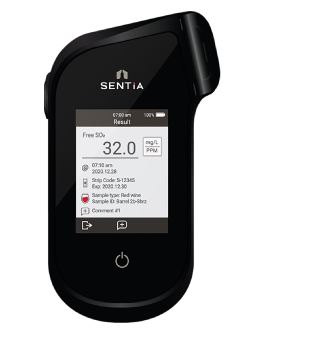 Sentia – Portable Oenological Parameters Analyzer
Format: 1 Unit
Code: UBS90200
Technology:
Application: Core equipment
Tag/Filter: Sulfite
---
Sentia is a portable device that revolutionizes the way important oenological parameters are analyzed. Using the same technology used for blood glucose measurement, SENTIA provides on-site and with a single drop of wine the levels of free sulfur dioxide and malic acid, other parameters will be made available in the next twelve months. Sentia has been developed and tested with the collaboration of important wineries and centers of oenological excellence, with the aim of providing analytical results of medical quality and with the simplicity of use and robustness to allow the measurement directly in the cellar by even non-highly specialized personnel. Le système est contrôlé via un écran tactile, ne nécessite pas d'étalonnage et permet l'enregistrement et l'échange de données avec les systèmes de gestion grâce à la connexion wi-fi.
---
We are working to publish new documents here, if you need more information
click here
.
GET A QUOTE FOR THE PRODUCT:
Sentia – Portable Oenological Parameters Analyzer
Format: 1 Unit
Code: UBS90200
Technology:
Application: Core equipment
Tag/Filter: Sulfite
---